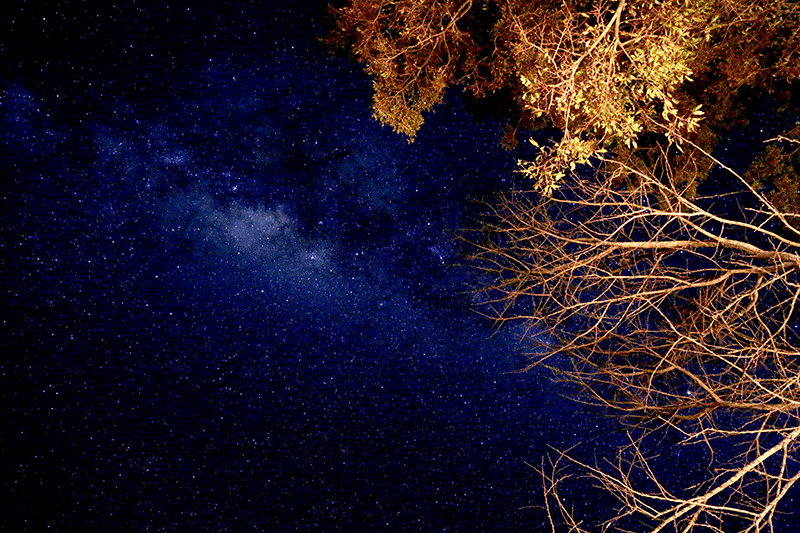 Occasionally the small wood fire crackled. One by one the stars began to wink. The top of the mountains caught the last diffused light, but darkness soon enveloped them as well. Above them the heavens awoke – an innumerable host lit the skies.
The only light on earth was distant and dim – a farmhouse in the valley. Then I heard it. It startled me at first, so I listened more intently … nothing. No cars, no planes, no machines, no voices. My senses have to reset. My ears have to remember what a faint choir of insects sounds like. My eyes have to learn once again to see the stars.
I looked up once again and as the skies overawed me I began to remember … not something I experienced, but a deeper, inherited memory. I sensed my connection to the generations upon generations before me. Age after age, the people who brought me forth stood beneath these very same skies and sensed the same majesty that is flooding over me.
My gaze narrowed and a poem was born.
I see you
although you see me not.
Your light has travelled
a hundred million years
to meet my eyes this evening
and delight me with your shining.
But you have no knowledge of your splendor,
no awareness even of your own existence.
Oh what wonder, what mysterious gift,
that in me your beauty can be acknowledged;
in me your existence is greeted
and gratefully recognized.
What bliss to be conscious;
to be aware of a beauty
that cannot appreciate itself.
My gaze is suddenly distracted …
as she comes around the corner.
I see you,
and you see me.
Two mysteries of awareness
intertwined in mutual bliss.
Your beauty I acknowledge
so that you may see it too.
The same wonder displayed in the heavens
in human flesh condensed.
Here the mystery awakens
existence finds itself reflected
the universe becomes conscious.