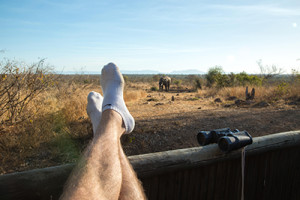 I'm paging through a travel magazine that features safaris in Africa. The pictures are stunning …  and normally I would find these images very engaging, yet I skim through the magazine with little interest. The reason is simple: I'm sitting a few feet away from a camp fire overlooking a vast african landscape. The magazine is thrown to one side as I notice the elephants that have just arrived at the watering hole, about 50 meters in front of us. Being in the middle of this experience renders the magazine irrelevant.
Reading the Bible has often been like paging through a travel magazine for many of us. Pictures of exotic places and larger-than-life characters are painted with such vibrant colors in these pages. But these stories can soon become pale and lifeless if we do not discover our involvement in them. My desire with this series of articles is to show you a way of reading the scriptures that will pull you out of spectator-mode into participator-mode.
We can read the Bible in search of wisdom and inspiration … and we may find it there. But how vast the difference between trying to find something in the text and finding yourself inserted into a living narrative … invited into a vibrant conversation where your contribution is expected and valued.
There are however a number of obstacles that can hinder us from experiencing scripture in this way. I have stumbled over a few of them, most often without knowing it. Our ideas about the scriptures are often the very obstacles that keeps us from understanding the ideas in scripture.
And so the first thing I need to do is share some of the mistakes I have made in reading the sacred text, mistakes that were very difficult to identify because they were so well hidden under sincere motives and pious cliches.
So the first part of this series will focus on deconstructing some popular ideas about the Bible. During this phase it might be easy to forget the actual intention – discovering ourselves as part of this living narrative – but stay with me, in the second phase we will reconstruct a new framework of reading and interpreting scripture that will make such participation possible.
The first sacred cow to be slaughtered: the doctrine of inerrancy. That will be the subject of the next article. (New articles every Tuesday and Thursday)