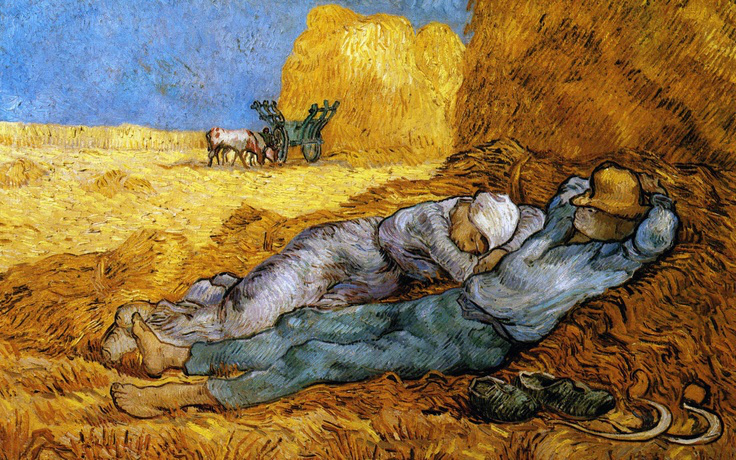 Fleshly thoughts… scary and intriguing for most who come from a Christian background. For many the word 'flesh' is almost synonymous with "sinful." It is mainly through the interpretation of Paul's writings, that flesh has come to symbolize uncontrolled passions and twisted desires. (Paul's thoughts are obviously more nuanced than such a shallow reading would suggest.)
But it is the gospel of John that gives us a very different perspective on the concept of flesh. The gospel begins with a recognition of an underlying logic that weaves through all of existence.
In the beginning was the Word, and the Word was with God, and the Word was God. He was in the beginning with God. All things were made through him, and without him was not any thing made that was made. In him was life, and the life was the light of men.

John 1:1-4
It is this ever present source of all that is, that John calls God. This God is no separate entity that creates from a distance, but rather a God entangled in creation, for it is through this Word that all things are made and without him nothing exists. John continues to describe this God, not only as Word, but as light, life and grace.
This has special significance when we come to verse 14 – one of the most memorable of all scriptures: "… and the Word became flesh."
Of what value is a word unless it is heard?
Of what significance is grace unless it is given?
Does light have any meaning if it is never seen?
And so grace is given, the invisible becomes tangible and the word becomes flesh.
Flesh is the manifestation of this underlying potentiality called God. If we could restate this using the language of modern science and philosophy, we might say something like this: In the field of quantum possibilities, it is the act of conscious observation that realizes a specific possibility. Potential becomes actual in a specific instantiation.  And so the God of infinite possibility manifests Him/Herself in all of creation. Our act of observation is therefore part of the creative process.
John clearly wants to focus on the unique revelation that came through Jesus, but we often jump to that conclusion too quickly and in so doing lose the depth and significance of what is communicated.
"The word became flesh" is then simply translated to mean "God became human."
But flesh is more elemental than body, just as water is more elemental than any particular river. It weaves far beyond any individual identity, connecting life with its source.
Yes, in Jesus there is a unique event of word-becoming-flesh, but not unique in that it does not happen anywhere else. The event of Jesus is not the first time that God experiences what it means to be human. Rather, it is the first time that we know, that God knows what it is like to be human. Jesus is a unique incarnation in that we recognize in him the divine manifestation of what is possible everywhere.
And the Word became flesh and dwelt among/in us, and we gazed on his glory – glory as of the only/unique Son from the Father, full of grace and truth.
The same Word that sustains all of creation, the grace that gives itself in the reality of all things, – yet, although this light was in the world, we did not recognize it as such (vs 10) – it is this same word that has always been present that becomes uniquely visible, audible and recognizable in the event of Jesus.
In other words, Jesus did not come to show us what we could never be, but rather what we have always been but did not recognize. The grace of our own existence, the reality/truth of God's self-giving into our creation, our flesh, is revealed through the message of Jesus. And so "of his fulness have we all received" – verse 16.
It is easy to justify a dualistic view of flesh and spirit – a view that sees flesh and spirit as opposed and irreconcilable – with verses such as "what is born of the flesh is flesh, and that which is born of the Spirit is spirit" (3:6) or "It is the Spirit that gives life; the flesh is no help at all" (6:63). But such interpretations ignore the overwhelming sense of the transformation of flesh portrayed in John's gospel.
Flesh does not remain a physical lump of meat, but is transformed as it is given. "Whoever feeds on my flesh and drinks my blood has eternal life" (6:54) In this instance flesh has the same benefit as spirit.
Flesh becomes bread and water and wine. It is continually transformed as it is given to be consumed. Suddenly the whole social context in which our labors and relationships produce bread, wine and commerce, becomes part of the flesh of our existence. Here too the Word, the logic of God wants to manifest in a way that will make our societies just and our sustenance satisfying.
It is exactly those who are born of flesh who can be transformed into spirit. Yes, if flesh simply remains flesh, if it is not given for the benefit of others, it is of no benefit at all. But Jesus opens up a new possibility, one in which it is our very fleshly existence that gives us an opportunity to transform what is limited and earthly into heavenly bliss as we follow his example of giving ourselves away. And so the Word that has so freely given itself into our fleshly fabric, comes full circle as flesh is transformed into word.
The visible and invisible
present at once –
the word made flesh.
Flesh,
tissue,
the elemental fabric.
Folding, flowing, this body forms,
the necessary construct,
in which consciousness erupts
Flesh,
inescapable.
Its gravity grounds us,
reminds us,
draws our transcendent thoughts
back into clay
the reality of decay.
Flesh
connects
in intimate touch
and ordinary exchange.
Vulnerable,
penetrable,
its fabric flows
also beyond boundaries of body,
it unfolds
Feed on my flesh and drink my blood,
Christ invites.
Flesh transform and intertwine
into bread and wine
into stories of labor and laughter.
The narrative entangles
all into one.
The mesh of flesh does not separate
but integrates
for reality's ground
not in some otherworldly realm, found
But in the midst of all this mess,
the truest God is found in flesh.
Its gravity – not a prison
but the drawing of love.
Its decay – not punishment
but promise
that these tissues will
yet be transformed.
And even as it is consumed,
into a larger body it will be assumed.
This flesh is part of a larger story
the tissue of divine glory.
Each sinew a sentence
each Word finds entrance.
Flesh becomes Word.
.
---
The 'word made flesh' has been part of my meditation and conversation for decades and so there are far too many books and people who have influenced my thinking to even mention. What I can do, however, is acknowledge and recommend some of the latest books I've read on the subject:
The Entangled God: Divine Relationality and Quantum Physics