Now Available!
Look inside: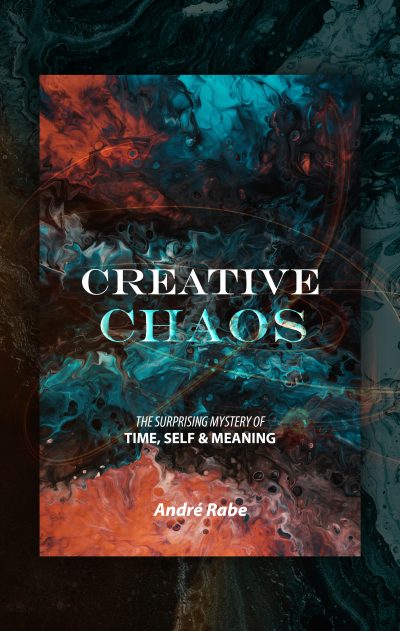 Reviews
In reading Creative Chaos by Andre Rabe, I discovered to my joy that theology can still be both intellectually profound and profoundly moving. Rarely in recent years have I come across such an excitingly transformative reflection on the hidden meaning of Christianity. Informed not only by biblical scholarship but also by the sciences and an awareness of the brutal history of human violence, this succinct work digs deep beneath conventional Christian thought in search of enlivening currents of meaning crusted over by centuries of dubious religious assumptions. Readers will find in this surprising text that both Christian teachers and their sophisticated opponents have too often blunted rather than exposing the meaning of divine creation, redemption, the crucifixion, and resurrection of Jesus. I strongly recommend this book as one not only to be read but also reread.
– John F. Haught – Distinguished Research Professor in the Department of Theology at Georgetown University.
---
Andre Rabe's latest work is his essential re-imagining of the Christian meta-story. With easy, deft hand and keen theological instincts, he guides us through scripture, Genesis in particular. Understanding the first book of the bible as a back-and-forth of the unconscious and conscious selves he demonstrates how the God of creation is seeking continually to tease human beings forward, to the depth of relationship which is love. The anthropology of Rene' Girard forms a leitmotif, revealing how humanity began on the wrong footing of violence and rivalry, and yet in Christ, a new-and-true way of being human is offered, one of nonviolence and forgiveness. Christ thus "re-sets the trajectory of the human story." The outcome is a holistic, healing narrative of seduction to love, so different from the divided, unhappy legacy of the old reading, with its damaging binaries of paradise/fall, heaven/earth, perfection/sin, grace/law. Rabe's work represents an epochal moment of fresh reading, one that is happening in many ways throughout Christianity but is given here what could very well be its classic presentation. This book overcomes violence not simply in the obvious, physical sense, but as the very key to existence which has framed everything for human beings, including the interpretation of the Christian message itself. According to Rabe, it is exactly all this which God in Christ is saving us from.
– Anthony Bartlett, Ph.D. Theologian and author, including Seven Stories
---
Andre says, "You cannot be certain and astonished at the same time." In Creative Chaos, he expertly walks through the origin stories, archetypes, and symbolism gently challenging traditional certainties that may hold us back from new possibilities. Humanity has been unconsciously shaped by narratives. The ideas presented here push the narrative forward in thought-provoking ways, challenging us to ask entirely new questions. Creative Chaos invites us into a chaos that is not evil, but the deep waters over which the Spirit hovers and creates new life. Jesus is presented as a model of how to live in a posture of openness to a God that will continually surprise. It's a challenging, refreshing perspective which opens doors you may not even know were shut. I highly recommend this book to anyone who is up for a fresh take on what they've held as certain or who desires a new adventure in their spiritual journey. 
– Tonya Stanfield, Masters in Christian Spiritual Formation and Discipleship. Author of Traffick Proof – A Counter-Human Trafficking Tool. 
---
God is not a rival, vying for control of your life. Turns out, control is not the goal. This book is a summons to set out on the adventure of maturity; through myth, rabbinic midrash, patristic thought, psychological insight, Girardian anthropology and Biblical contemplation to new possibilities for life. Beyond the lack within, beyond a blueprint from above, beyond being a spectator on the sidelines, beyond chaos being met with coercion, the Spirit beckons you to a beauty unimagined in the depths we fear.
– Jarrod McKenna, award-winning nonviolence educator and host of the popular InVerse Podcast.
---
Some or other time some of us need to not only challenge, but liberate the 'ready-made' stale
interpretations and 'pretended truths' postulated by rational and irrational thinkers over eons of
splintered -but precious- human up-writing. Thank you for your courage and your time Andre Rabe.
This work surely rattles our gilded cages. It is a vibrant, concise, but oh-so-tentative and grounded
exertion that brings it (Him) home to the ordinary man by un-ceremonially challenging, embracing
and liberating even our heaviest -isms in every school of thought. What a unique edifying process of
layered meaning and mirroring the author of 'Creative Chaos' creates by stretching and moulding
the colourful images of our communal archetypal mind's eye. Co-creators we are indeed! These
pockets of intertwined unassuming meaning stretch its tents wide over umpteen disciplines –
wrapping and embracing and comforting and upsetting, but mostly seducing us towards a safe space
– in the deepest premises of belonging snugly settled within Creator's prismed reach. Irrespective of
our ever groping for control, love tenderly disarms us time and time again. The moment one thinks
one knows now; Andre's keen mind playfully lure one further into the next exploration. Few authors
have the courage to surpass methodology and theory and veer into the deepest layers of acme
knowledge on paradigm, epistemology and ontology levels. The only 'fact' I dearly remember after
eating this book – is that 'chaotic uncertainty' becomes the loving voice of one's dear friend and
companion – exactly that amplifies the wide-open borders of creative Abba-love portrayed here as
an embrace of Good and Bad, of Life and Death, of all of me and all of you -in Christ- and of much-
much more. Astonishing 'creative chaos' indeed: Unlimited possibilities are unleashed into light.
While reading this text the avid moments of 'seeing' explodes like slow unfathomable and heavy
chaotic blobs … eerily rising and clarifying into feather-light rainbow shimmering bubbles of clear
insight. What a mental and affective take and a re-take and re-take it was and will be. This book
roars in its rumination. The Lion and the Lamb will lie down together – on every coffee table. A once
in a lifetime experience. I have a bubbling expectant hope for future generations of interpreters as
more layers of truth enfolds and unpack itself, through the bravest lovers amongst us.
Truda Pretorius Keyser B.Artium; B.Psych-Hon Clinical.; M.Ed.Psych. Psychologist Pr.Prct. Sielkundige